Brass Bands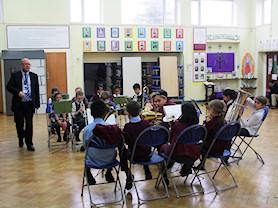 The school's brass band in rehearsal.
Children are given the opportunity to learn a brass instrument from Year 2 upwards. Playing the trumpet, French horn, tuba and cornet to name a few provides a great sense of achievement.
We are very proud of our musicians who entertain us at our school gatherings, masses, events and concerts throughout the year.
Further up the school opportunities are provided for the children to participate in Sandwell Youth Music Orchestras.
Area Brass Band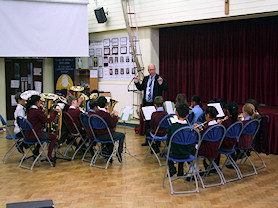 A weekly rehearsal for the Area Brass Band.
The Area Brass Band practice weekly at St Gregory's School.
Children from St Gregory's School and neighbouring local primary schools meet to play together to prepare for concerts. The percussion section is made up of children from school.
Choir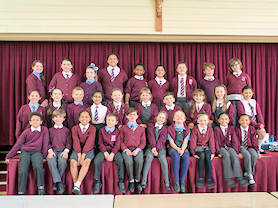 Members of our Choir.
Our school choir is led by Miss Collins and Mrs Morris.
Singing in the choir provides the children with the opportunity to express their thoughts and feelings through music and singing.
To date they have sung at school events and community based events.
Drums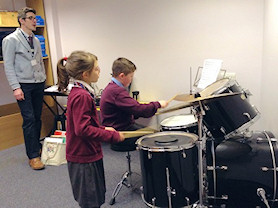 Learning to play the drums.
The drum lessons provide the children with the opportunity to have fun and learn about percussion and how rhythms work.
Under the guidance of specialist drum teacher the children learn how to play the instrument effectively.
Keyboard Lessons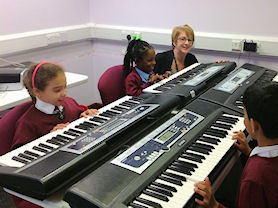 Learning the keyboards.
Year 2 children have the opportunity to learn to play the keyboard. Sandwell Music and Arts attend school each Tuesday to work with the pupils.
Much fun is had by the children!
Singing Tuition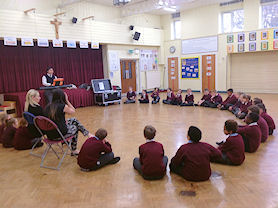 Learninghow to sing.
Mr Cheung of Music to You teaches the singing lessons to the Key Stage 2 pupils.
Each year the children perform in numerous events during the school year to showcase the songs they have learnt.
Violin Lessons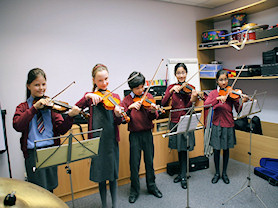 Learning to play the violin.
Violin lessons are offered to children in Key Stage 2 classes.
The children work through a series of set pieces over the four years.
All children take part in an annual concerts for the parents and school community. Further up the school opportunities are provided for the children to participate in Sandwell Junior Strings Orchestra.